Earlier brands used to follow old and traditional advertising methods to promote their products or service. With time they have changed their old marketing methods and tremendously evolved their marketing strategies. Over the last few years, user-generated content (UGC) is one of the popular topics in digital marketing.
Using user-generated content (UGC) to market became the most effective way to market brands. After all, UGC is something that is created by your users. And when users feel part of a team and have a sense of belonging, they're more likely to stick around. But still, some marketers overlook user-generated content (UGC). To make them realize how influential UGC is, today we are going to discuss user-generated content (UGC) at length. After that, we will show you how to collect user-generated content from your users in WordPress.
What is User-generated content (UGC)?
User-generated content (UGC) is content that is created and shared by product users or consumers of a brand in order to express their opinions, experiences, ideas, or feedback. Like other content, UGC can be anything like comments on a blog, images, videos, social media posts, reviews, or testimonials.
Brands can use user-generated content for their purposes. It leads to users promoting a brand through online content, rather than the brand promoting itself. It is known to be the most reliable, trustworthy, and authentic form of content. And as it is experience-driven and honest, often it is much more efficient than conventional content. That's the reason marketers crave UGC.
Types of User-Generated Content:
Now that you understand what UGC is and how it can benefit your business, let's look at what types of user-generated content are out there. User-generated content comes in as many styles and formats as the content we publish on our website. But here we have listed the most important types of user-generated content.
Visual Content:
Visual content is the most engaging type of UGC. Visual content plays a huge role when it comes to expanding your brand recognition to your target audience in today's market. As online potential customers can't physically inspect a product, seeing photos or video clips makes users feel more confident. And when it comes from another consumer who used the product, potential customers get an accurate idea of the product or service the company is selling. So encourage your customers to post photos and videos about your product or service. In that case, UGC videos are more effective than photos. As it takes time and effort to produce UGC videos, sometimes users don't want to share their experiences via video. That's why some brands hold events and competitions with attractive awards to gather videos from their customers.
Blog Posts:
Blog posts are very trending nowadays. They are similar to reviews and testimonials. Bloggers display products show how to use them and write down their experiences. One of the first things customers do before shopping is research your business online and see what others saying about you. So blog post not only promotes your products and services but also sells the experience without spending. Some businesses choose to partner up with writers to try their products and share their experiences. It gives those brand recognition among large-scale audiences.
Reviews and Testimonials:
According to statistics, more than 88 percent of shoppers go through reviews before making online purchase decisions. Reviews are the most organic form of feedback that can help brands grow globally and encourage audience interactions. Whether a third-party review such as a Google review, Facebook review, or direct reviews on a website, they let other customers know about your brand and products. To get reviews, reach out to past happy customers and ask for a short paragraph on how your product or service has helped them. You can even as them to post reviews and offer a small gift in exchange. Using those content can increase trust, authenticity, and sales.
Why Collecting User-Generated Content Important?
To create an established brand you need a different types of marketing strategies. So far, it's pretty clear that user-generated content can play an integral role in a brand's marketing strategy. But how?
Let's check them out.
1. UGC creates brand loyalty and trust:
Trust is the hardest thing to achieve in business and brands work harder than ever to gain customers' trust. Luckily, one of the greatest advantages of UGC is the fact that it creates trust and loyalty around your brand. Consumers trust recommendations from other people more than the ones from brands themselves. User-generated content works as social proof. It is the validation that your consumers provide to the brand about the trust, authenticity, and reliability of their products or services. That shows your product is worthy of buying and builds brand awareness and reputation online.
2. UGC is authentic:
Nowadays, customers are no longer just buying products by watching TV commercials and billboards. They are more passionate about authentic content. And what content is more authentic than user-generated content? When asked, 90 percent of consumers say authenticity is an important factor when deciding which brands to support. They put their money into researching authentic reviews by consumers. Also, people could detect fake reviews. The authenticity that comes from real UGC can't be faked. So, never try to create fake UGC. That will cause you seriously damage your brand reputation and lose customers' trust.
3. UGC is cost-effective:
Usually, brands leverage third-party channels to market themselves and spend a lot of time and money hiring creative teams to produce content for their campaigns. Also, it takes you a long to plan, create, edit and upload a single post. Where user-generated content is unpaid and costs nothing. You don't need to spend dollars on hiring any creative agency or investing in larger-scale brand awareness campaigns. It even shaves off time and effort by letting your community create the content for you. Though UGC is cheaper, doesn't mean will replace brand content? User-generated content and brand content work hand in hand.
4. Increase your engagement and Conversion Rate:
UGC increases user engagement, and engagement help to boost conversion rate. By displaying UGC you make your users the main focus. And when users feel valued they become more engaged and involved with your brand. On the other hand, users can relate to other users more than they do to brands. When you share UGC, you make the content engaging & valuable to consumers. And the more customers post about you, the more people will know about you and will likely buy your product or services.
5. Increase your visibility:
The ultimate goal of marketing is to get your brand in front of as many people as possible. When your users create content for your brand and you display them on your website, they share it with their community on social media. So the content not only reaches your own community but also reaches the users' friends and family. So your brands get more visibility. Moreover, 50% of users take their buying decision on recommendations from their family and friends. So this is where UGC can shine.
Collect User-Generated Content in WordPress:
If you are using WordPress Download Manager, you already know they introduced an amazing feature "DropZone" in v.6.1.8. Using this feature you can give your users direct access to upload files or you can send your specific users "File Requests" to collect user-generated content in WordPress. As we already mentioned, UGC can be in different forms. So using the "DorpZone" feature for collecting images, videos, blog posts, etc. will be best for you.
But sometimes, you don't want to receive files from every user. So we recommend using the "File Request" option so that you can request for UGC to your specific users. By doing that you'll be able to collect the best UGS from your best users.
To start with, first, navigate to "DropZone > File Requests". You'll see the "New Request" option on the right side, click on that option.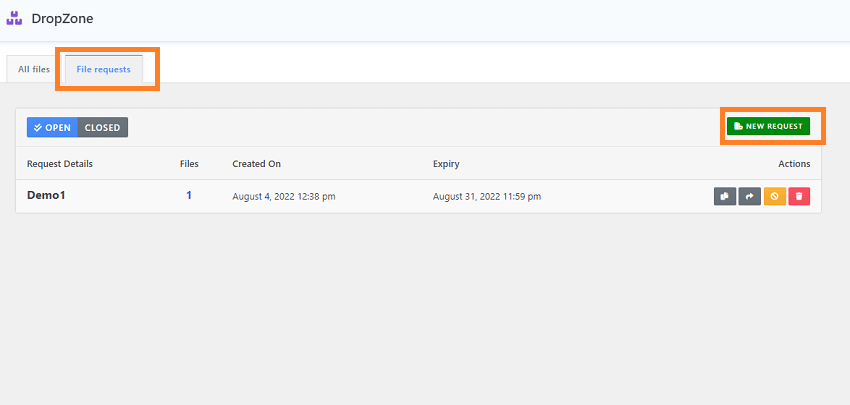 Next, a new pop-up window will appear. Add request title and request description to make users understand what type of content you are requesting. Now, toggle the "Set a deadline" button and set the deadline to send the file. Once you are done, click "Save Changes".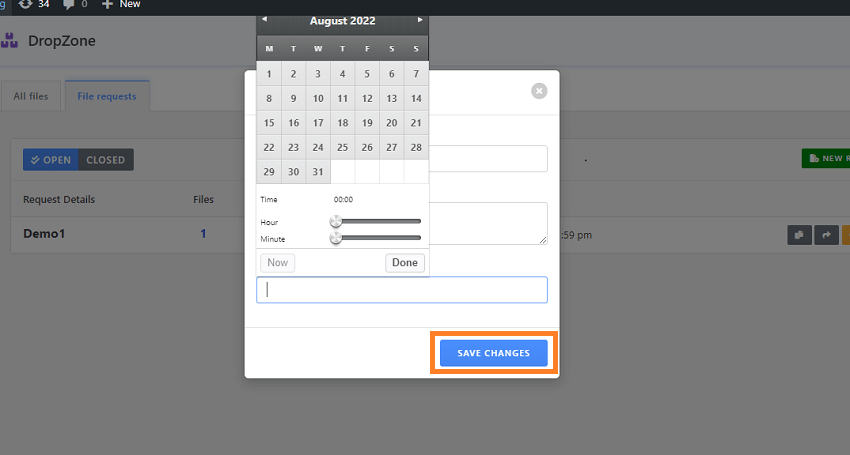 As you can see a file request has been created. To send file requests to your users, click on the "Share link" on the right side of the request and add the user's email address. You can add multiple email addresses there to send requests to many users at a time. Also, add a message telling how important their content is for you and send it by clicking on "Share".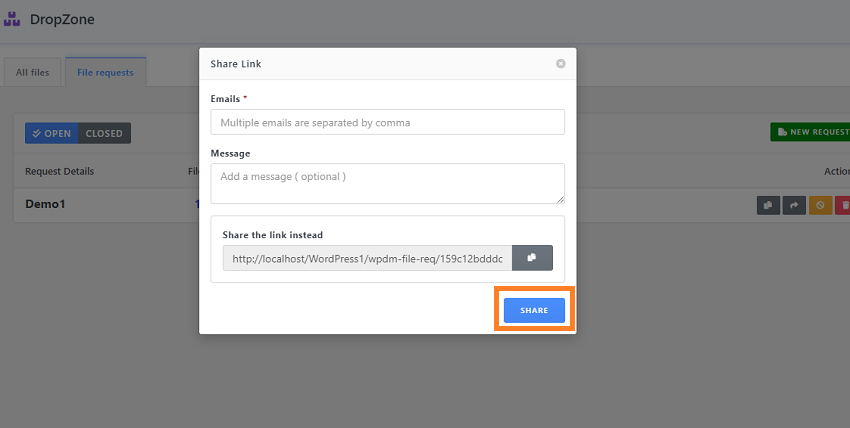 Sum Up:
Now you know everything there is to know about, you can start your UGC campaigns as soon as possible. Just choose the right tool in place to help you collect and manage user-generated content in WordPress, and you will get a cost-effective and scalable way to market to build trust with prospects. If you have any questions regarding file requests, check the demo and see how you can collect user-generated content in WordPress. However, no matter how you are collecting UGC, we highly recommend using it in your marketing campaign to get the most out of it.